This post was originally published on January 2nd 2019 and updated on March 23rd 2020.
Today's post is the forth in the series of our 'home educator's journey', following the lives of Anna and Lucy on their NEC learner story. Anna and Lucy are a mother and daughter who are sharing their experiences of online distance learning and home education. This post is written by Anna, highlighting her experiences of entering exams through NEC. Click the links to read the previous blogs in the series "Selecting our course provider", "Getting started" and "Home educating through GCSEs".
Arranging a place to sit examinations can be one of the more stressful parts of home education. My daughter, Lucy, sat three GCSEs last year. We prepared well in advance and thought we had found a centre where she was able to sit them. However, when the time came to book a place, we discovered they no longer accepted external candidates. We were then left to sort out a different centre in a relatively short window of time. As we knew she would be sitting more GCSE examinations this year we were keen to avoid this situation again.
"Arranging to sit an examination through NEC has been very simple"
One of the attractions of studying with NEC was, for us, a guaranteed place at one of their partnership examination centres. We knew that this would be very helpful and alleviate some of the stresses of studying for GCSEs at home. Although it is not applicable to us this year it is also good to know that you can sit language GCSEs though NEC. This can be challenging for home educated students because of the oral element which many centres are unable to facilitate.
NEC are also able to support students who need access arrangements, such as using a laptop or having extra time, to support them when sitting examinations. Finding a centre willing to support with this can be another area of difficulty for home educated students so it is a welcome bonus of studying with NEC. Due to the extra paperwork there is an earlier deadline for students who need access arrangements and it is worth talking through your needs with NEC staff as you enrol on the course.
"a guaranteed place at one of their partnership examination centres"
Arranging to sit an examination through NEC has been very simple. There is a set time frame when applications have to be made and they sent us email reminders when it was time to start thinking about it. They also provide guidance documents about the process of applying to use one of the partnership centres. The process of sitting an examination through NEC involves completing an application form stating the centre of your choice – they have a number across the UK and we are fortunate to have one relatively close to us. Information about each partnership centre is provided on the NEC portal. Once the application form has been completed, ID sent and the fee for each exam paid then the form will be processed. The cost of sitting the examinations can be high and it is important to remember to include this when planning which courses you want to study. The examination fee is separate to the cost of the course so remember to bear this in mind. There is, however, also the opportunity to use an examination centre of your own choosing if you would prefer that option. You would be responsible for ensuring you are entered for the correct course and liaising with the centre.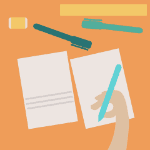 Once the application has been processed you will be sent a statement of entry by the examination centre. This gives the dates and times of the examinations you are booked to sit. You will need to check this carefully as it will often give instructions on any ID that you need to bring with you. Once you have this then you are all set to sit the examinations. The rest, as they say, is up to you.
Find out more about home schooling with NEC here.
Free learning resources
As part of our commitment to those affected by the impact of the coronavirus, and in an effort to help support parents, teachers and students during this difficult time, we are making the learning materials available from our Resources Webstore free to download to the public using the discount code NECFREERESOURCES.
Further information on how to access the resources is provided in the following PDF document: https://www.nec.ac.uk/wp-content/uploads/2020/03/Free-NEC-Resources.pdf