Tonight (April 25th) at 9pm, BBC 4 will be broadcasting a new hour long documentary 'Happy Birthday OU: 50 Years of The Open University'. It will feature NEC Chief Executive Dr Ros Morpeth OBE speaking on the origins of the National Extension College and how these ideas helped form the basis of the Open University. In recognition, for this blog we shall delve in to the NEC archive and unearth our relationship with broadcasters, particularly the BBC.
The National Extension College (NEC) was founded by Michael Young in 1963 as a pilot for what he intended to be the nucleus of an open university. The NEC would have three functions:
Improve the quality of distance learning courses
Promote a range of learning opportunities.
Teach through a variety of methods including broadcasting.
The last of these had been on Young's mind for some time. In The Unlucky Generation, an article that Young had published in Where in October 1962, he spoke of innovative ways to expand university provision and wrote of combining the tradition of correspondence education and linking it with broadcasting. He had already made links with Anglia Television. And had arranged for 5 lectures, entitled Dawn University – the lectures were shown at 7.15am – to be televised over a week in October 1963. 250,000 people tuned in. This confirmed Young's thoughts, there was indeed a potential audience.
Radio
Initially, it was radio that began NEC's relationship with the BBC. Using radio as a means of learning was not a new idea, it had been established in the late 1920s to fit with the BBC's three core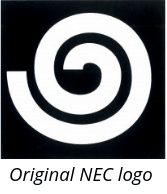 values: inform, educate, and entertain. Young wanted to make greater use of television and radio, and John Scupham, Controller of Educational Broadcasting at the BBC was also looking to a widen the use of broadcasting in education. In Autumn 1964 After School English was piloted on BBC Midlands Radio, before being rolled out nationally in 1965. More than 200,000 people listened in.
The series combined English Language and Literature and followed the curriculum for correspondence English courses. David Grugeon, the NEC's first paid employee, had a team ready to write the course. What he did not have, however, was a possible radio tutor. He duly arranged interviews with 6 potential candidates. At the end of the day, he asked the producers whether they had found someone. To which they answered, 'Yes, it's you, David.' David presented the programme for five years.
Television
Still, NEC did not limit its educating to radio. In the aftermath of World War 2, educationalists were arguing for the aesthetic nature of TV and the educational value this offered. Television providers had to fill a quota of government set hours with educational programmes and NEC's ability to fill this niche set them apart from the competition.
It was in spring 1964, that NEC co-founder, Brian Jackson first used TV as a deliberate means of education. In collaboration with Anglia Television, he launched the College of the Air project. It was
meant to make a link between those who had been studying the subject by post, and tutors who had then been marking and writing the correspondence. These initial 6 programmes were half an hour; the first 15 minutes was dedicated to English, and the next 15 minutes to maths.
The relationship between ITV and NEC was mutually beneficial: educational broadcasts gave ITV respectability, whereas it gave NEC a further platform to develop. For instance, after Make it Count, a maths programme broadcast on ITV, 11,000 books were then bought from NEC.
By 1971, NEC had 16 linked courses with broadcasters. However, after the massively successful Open University Gateway courses that NEC ran in 1968-9 alongside programmes on BBC Television, the link between the BBC and NEC weakened. The relationship began to rebuild by the mid-seventies, and although regional television was still popular, and there would be plenty more successful collaborations to come. It was not until 1979 when NEC produced a course book for the BBC educational series The Silicon Factor, that stimulated both organisations to search for a follow-on.
BBC Computer Literacy Programme – 30-Hour BASIC
Both the BBC and NEC were pleasantly surprised by the high level of interest in The Silicon Factor, and both began, at first, separate projects to capitalise on the success. A BBC report by John Radcliffe – Executive Producer, The BBC Computer Literacy Project – written in August 1983 nicely fills in the events:
'During 1980 the NEC had decided the time was ripe for an introductory course on BASIC programming for micro owners, to be called '30-Hour BASIC'. When our computer literacy plans were announced, Richard Freeman, the Director of NEC, approached us to see if we could bring our projects together. We were not planning to teach BASIC but we knew that many of our audience would want to learn it, and we agreed to work together. Richard Freeman joined the project team, and agreed to time the production of the NEC course so as to coincide with our transmissions. He agreed to make the course compatible with the BASIC to be used on the British Broadcasting Corporation Microcomputer … and we undertook to provide NEC with details of the language specification, and help them obtain early machines. The course would also be applicable to other micros, and this coincided with our wish to serve as wide an audience as possible. It was being planned so that it could be used either as a free-standing text for home study, or as a full correspondence course with tutorial support. The NEC were also developing 'flexi-study' arrangements, through which their students would be able to go into local colleges and use machines to support their studies. Broadcasting Support Services would publicise '30-Hour BASIC'.'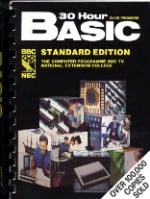 In the NEC Annual Report for 1981, former NEC Director, Richard Freeman wrote of the BBC Computer Literacy Project: 'That has become the largest project ever undertaken by NEC and brought us our first title in the best sellers list.' The records no longer exist but it's estimated that 30-Hour BASIC sold between 150,000 and 250,000 copies.
More collaborations between the BBC and NEC would come, including the BBC launch of Just the Job, intended to help young unemployed people during the unemployment peak of three million in 1983. Successful collaborations withstanding, NEC's involvement in the BBC Computer Literacy Project will always remain a pioneering achievement.
In 1998, Jane Drabble – Director of Education at the BBC – highlighted how partnerships were still important in providing education. Indeed, she named the NEC as providing support for the qualifications. She did not want the learning to stop at the broadcast but rather ensure viewers and listeners had something to do afterwards.
'Happy Birthday OU: 50 Years of The Open University' will be shown on BBC 4 at 9pm on the 25th of April and available to watch on the BBC iplayer.
Thanks to blog contributor's and historians Kate Marks and Anna Gibbons. Whilst both studying history at Murray Edwards College, Cambridge, Kate and Anna interned with NEC in the Summer 2018. During this time they complied an extensive archive of the National Extension College.