Innovation for NEC A level science students
Back in February we blogged about how you can study a Science A level by distance learning. We talked about the practical work which forms part of the course, and mentioned the new format of A levels, where a practical endorsement can be obtained in addition to your A level grade.
In this blog we explore what NEC is working on to help our learners to achieve the practical endorsement.
We have now formed a partnership with the Open Science Laboratory at the Open University giving us an innovative solution to the challenges of preparing for A level practical endorsement at a distance.
If learners want to gain a formal 'endorsement' of their practical skills alongside their grade from a written examination, A level sciences now require a minimum of 12 experimental activities to be undertaken and assessed as part of the course.
Our aim at NEC is to enable learners to prepare and be able to undertake assessments for these practical endorsements if they choose. The endorsements can usually be gained by demonstrating experimental knowledge under laboratory conditions according to Common Practical Assessment Criteria (CPAC). Practical endorsement grades are likely to be required for admission to medical training in most HE institutes and also for degree level study in some disciplines.
The NEC approach to practical experiments
NEC has a long-established and successful system to help learners on a biology course undertake practical experiments using equipment and resources in their own homes. This is not possible for all chemistry and physics experiments as radioactive substances, Geiger counters and other technical equipment is unlikely to be readily available! To gain the practical endorsement however, all practicals must all be taken in a controlled and observed setting.
We are therefore planning the development of a three stranded approach for NEC learners:
Online videos are being recorded at the Open Science Laboratory showing how experiments can be performed safely using the latest equipment and excellent laboratory techniques. Results data for later analysis by learners will be supplied as part of the course. See the next section for more on this.
Real time access to 'virtual experiments' online from the Open Science Laboratory will be able to be conducted individually by NEC learners. These experiments will enable access to high tech equipment (such as electron microscopes) and replicate actual laboratory experience by generating a unique and growing set of results data across a range of variables.
​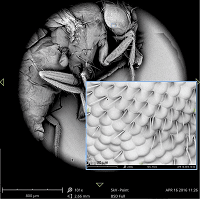 Above: See a fruit fly through an electron microscope as you may not have seen it before (reproduced with kind permission from the Open Science Laboratory of the Open University, 2016)
Recording new videos
The first videos of Chemistry and Physics experiments were shot last week. These are:
Chemistry
Measuring Ka for a weak acid
Electrochemical cells
Physics
Charging and discharging a capacitor
Radiation using an X ray machine
Below are photos of the video shoot with NEC tutor Jane Blunt, Professor Nick Braithwaite from the Open Science Lab, and the video team in action: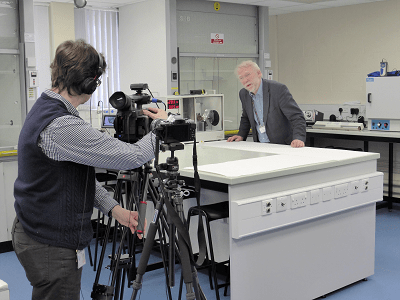 Above: Professor Nick Braithwaite telling us all about the dangers of x-rays and how to measure the resistance of aluminium foil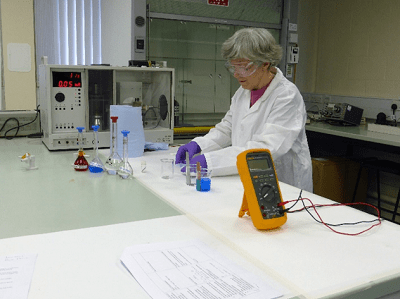 Above: NEC tutor Jane Blunt testing the electrode potential of a variety of metals in colourful solutions under laboratory conditions
Further video shoots are planned, and in addition the NEC course team are evaluating the best videos from the Royal Society of Chemistry and other external sources for access by NEC learners.
The Open Science Laboratory
NEC is proud to have Professor Nick Braithwaite as a founder member of our newly formed Curriculum Advisory Panel, and working closely with the Open Science Laboratory we plan to continue to innovate in support of individual learners, schools and other institutions to extend online science education at GCSE and A level in the UK and overseas.
See http://www.open.ac.uk/researchprojects/open-science/
More information
For more information on the A level science courses from NEC you can browse our course pages or phone the Course Advice Team on Freephone (UK): 0800 389 2839 or Overseas/mobile: +44 (0)1223 400200.
You can also leave a comment below, or get in touch with us on Facebook or Twitter.