This post was originally published on Friday, 4 May 2018 and updated on Friday, 29 March 2019.
This week's blog is written by Jane Horton, tutor for NEC on the Art Techniques course.
Jane introduces the new edition of the Art Techniques course, which she has been responsible for revising and updating. Here she explains why it is good to explore your creativity and what sort of exciting changes have been made to the course. Jane studied art history and art at postgraduate level and has been involved in art education on and off all her working life, specialising in open and distance learning. Jane is also a practising artist and illustrator.
What does the new course look like and why should you study it?
This course is a great starting point for anyone who feels they really want to grasp the nettle and have a proper go at drawing and painting. Work your way through this course, with helpful feedback from your tutor, and you'll end up wanting to take it even further. This course has always been popular with NEC students but we felt it needed to be refreshed and brought up to date. The good news is that this updated course is just about to be launched and you could be one of the first to enrol.
Anyone studying this course will find themselves just as challenged as previously but will find their path through the course a little clearer and simpler. You'll still cover all the basics, of line, tone, shape, perspective, and colour. And you will practice a range of themes that will stand you in good stead on your artistic journey. The new version of the course includes more focus on women artists. It's always important to look at the work of others when learning about art techniques, and it's essential to add in some examples from wonderful female artists which the old version of the course was lacking.
If you take one message from the course it should be to draw all the time, every day if possible. Your observational and drawing skills improve as if by magic if you do this. Included in this blogpost are a few examples of my quick daily drawings and paintings which form the core of my practice. This daily practice has formed the basis of a shift in focus of my art practice and a satisfying move of direction. Perhaps doing this course will change your life and move you in a new creative direction?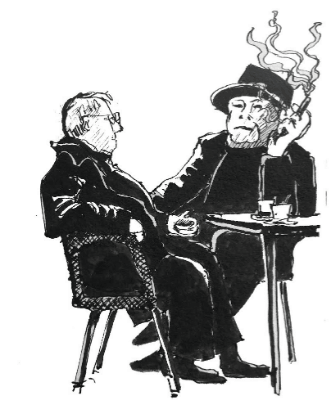 As a tutor and an artist myself, I hope this course will help you to discover your latent artistic skills and develop them. It can provide the basis of an interest that will fill the hours, and mean you will never be bored. After all, you can pursue drawing with the simplest of tools: a sheet of paper and a pencil. You might want to take this further on completion of this course as well. You could sign up for more courses locally, or even an art degree, either online or at a college. But first, get out your drawing and painting tools and enrol on this refreshed Art Techniques course. Follow each exercise carefully and you will really improve your drawing and painting!
Author update: As well as a specialist in distance learning and our lead tutor for this course, Jane is a practising artist. We are pleased to share with you the details of her upcoming exhibition. In Jane's own words: 'I am exhibiting in the non catholic cemetery of Rome, famous resting place of Keats, Shelley and many other illustrious individuals. With a long history, and an amazing array of monuments, including a large Roman pyramid, the cemetery is a beautiful idyll, away from the noisy streets of central Rome. I have spent three weeks painting and drawing there, after an invitation to mount an exhibition of my interpretation of the cemetery, in the onsite gallery 'garden room'. The exhibition runs from 20 September for two months'.
'For this exhibition I chose to work on the spot, with gouache paints and pen and ink, trying to convey the tranquility of the place and the relationship between the carved monuments and the natural environment. I feel very honoured to have received this commission, there is nothing I'd rather do than sit in the shade on a hot day, drawing and painting.'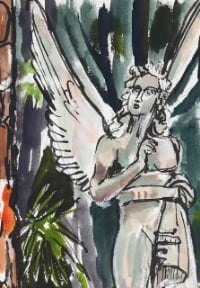 Stone and nature: a celebration runs from 20 September 2019 – 20 November 2019, for further information click here.
If you would like to know more about this course, get in touch and speak to our Course Advice Team. You can email us at info@nec.ac.uk, call us free from any UK landline on 0800 389 2839, or send us a message via our website's Live Chat. We can also be found on social networks including Twitter and Facebook.