The first years of a child's life, before they start school, are a crucial time in their development, and their experiences when they are very small play a big part in forming how they view the world as they grow up. That's why childcare and early years offers some of the most varied and rewarding careers around. If you want to work with pre-school children, a course with NEC can set you on the right path.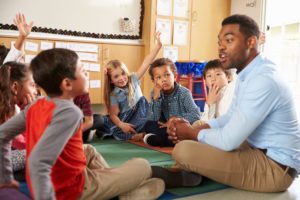 All NEC childcare and early years courses are accredited by NCFE CACHE (the Council for Awards in Care, Health and Education), which is the leading awarding body in the UK for courses in early years care, childminding and playwork.
We offer childcare and early years courses at Level 1, 2 and 3. 
If you need help in choosing the right course for you, we hope the table below will help you to decide.
| I want to work with... | I want to work as... | Qualification |
| --- | --- | --- |
| Children aged 0-5 years | I want an introduction to working in a pre-school or nursery | Level 1 Award in an Introduction to Early Years Settings |
| Children aged 0-5 years | pre-school or nursery assistant | Level 2 Certificate Introduction to Early Years and Care |
| Children aged 0-5 years | pre-school or nursery leader; childminder | Level 3 Diploma for the Early Years Workforce (EYE) |
| Children aged 4-16 years | after-school or breakfast club; holiday playscheme | Level 3 Certificate or Diploma in Playwork |
| Children aged 4-16 years | I want to get involved in Playwork and I have a Level 3 Early Years qualification | Level 3 Award in Transition to Playwork |
With NEC's flexible Childcare and Early Years courses, you study at a time and pace to suit you. Courses are delivered on the Laser e-portfolio, an online learning system endorsed by NCFE CACHE.
When you become an NEC student, you'll be supported by one of our expert NEC tutors. As well as being a qualified teacher with experience of assessing and tutoring online learners, your tutor will have experience of working in the childcare and early years professions.
Your tutor will help you build up the evidence you need towards gaining your chosen qualification. If your course requires a workplace observation as part of the assessment, your tutor will arrange to visit you in your setting. (Please be aware this incurs an additional cost if you are outside of the UK.)
You'll also be able to call on the expertise of our dedicated student support team, by email or on the phone.
If you want to become a childcare and early years practitioner, you'll need to consider which qualification is best suited for you and the role that you want to work in. NEC offers several different courses.
Take our quiz to find out which NEC childcare and early years course is right for you, or follow our interactive table to explore your course options.
At NEC, we're experts in distance learning. Over the last 55-plus years, thousands of adults and young people across the UK and beyond have gained life-changing qualifications by studying with NEC. What matters most to us is the success of our students, so we offer all the support you need, combined with total flexibility to learn the way you want to.
NEC are innovators in distance learning, and all our courses are designed specifically for independent learners. You'll access all your high quality course materials LASER learn online learning platform and your personal tutor will be there to help you succeed, commenting on your course assignments and preparing you for your exams.
We'll provide all the course materials you need, and optional extra study guides are available to help you develop better study skills. The only essentials you need to provide are an internet connection, a sufficient standard of English to be able to understand the subject materials, and a drive to succeed!
Studying independently doesn't have to mean studying alone. When you enrol to study childcare and early years courses online with NEC, as well as having access to your personal tutor and dedicated student support team, you'll become part of a friendly national and international online learning community.