In support of Dyslexia Awareness Week, we thought we'd highlight the features available on NEC courses that can help support our students with dyslexia.
What is dyslexia?
Dyslexia is a learning difficulty which affects the person's ability to read, write and spell – around 1 in 10 people are affected in the UK. When somoene with dyslexia reads a book or a bit of text, it may seem like the words are moving around on the page. When someone with dyslexia writes, they may write their d's as b's and b's as d's and so on. It can also be hard for the person experiencing difficulties to explain to others what they're struggling with.
How can dyslexia affect you?
– It affects your ability to read, write and spell.
– You may struggle with the sounds of words.
– Can affect your short-term memory.
– Sometimes problems with maths and co-ordination can go alongside dyslexia.
– Dyslexia can be mild or severe.
How can NEC help if you have dyslexia?
Students who enrol with us have access to their course materials online via our learn@nec platform. There is an accessibility bar at the top of the page which you can set to appear via the Course Tools. The Course Tools can be found at the end of the Contents list of your course in learn@nec. Various options are available to help whilst you're studying, for example you can change the background colour to one that you feel more comfortable with when you read text.
Here's an example of what one of our courses looks like with a yellow overlay: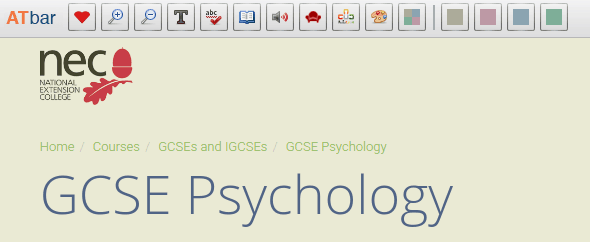 You can also change the text size, type of font and colour. You can even hear the text read aloud by clicking on the speaker icon. So what are you waiting for? Have a play around with the accessibility features to create your ideal learning environment.
If you sit your exams at one of our partnership exam centres, we can help you with exam access arrangements – this might include providing extra time or a scribe. If you do need additional help with your exams let us know as early as possible and we can advise you what supporting evidence of your dyslexia you will need to support your exam entry.
One of our partnership exam centres works in collaboration with specialists (part of AMBDA – British Dyslexia Association) who can offer tests for diagnosing dyslexia.
If you, your child, or someone you know has dyslexia, remember that support is available. Having a learning difficulty isn't a test of intelligence – people with dyslexia are more than capable, they might just find certain things more difficult than other people do. Here are some useful links where you can find out more information:
If you're looking to study via distance-learning, all of our courses have accessibility features to support people with dyslexia. You can find out more on our website.